Overview of ResorTech EXPO 2023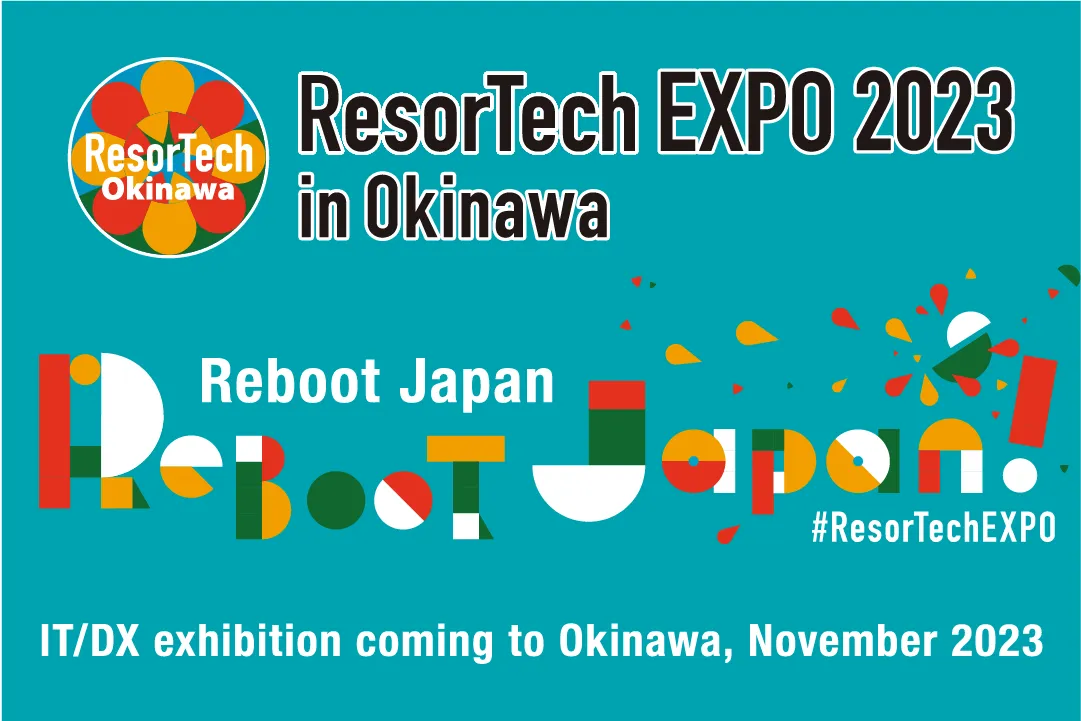 What is ResorTech EXPO?
"ResorTech" combining the word "Resort" and "Technology", the term has been proposed by Okinawa Prefecture since around 2019.
ResorTech EXPO has concept of "Resort" x "Technology" will promote the creation of innovation and new businesses originating in Okinawa.
And it will bring together domestic and foreign IT businesses and a wide range of businesses, including those in the tourism industry, in Okinawa, thereby communicating the ResorTech Okinawa brand to the world.
ResorTech EXPO aims to be not only a regional event in Okinawa, but also the only one in Asia that combines resorts and technology.
Such an event is rare in the world and we are the one and only IT show in Asia.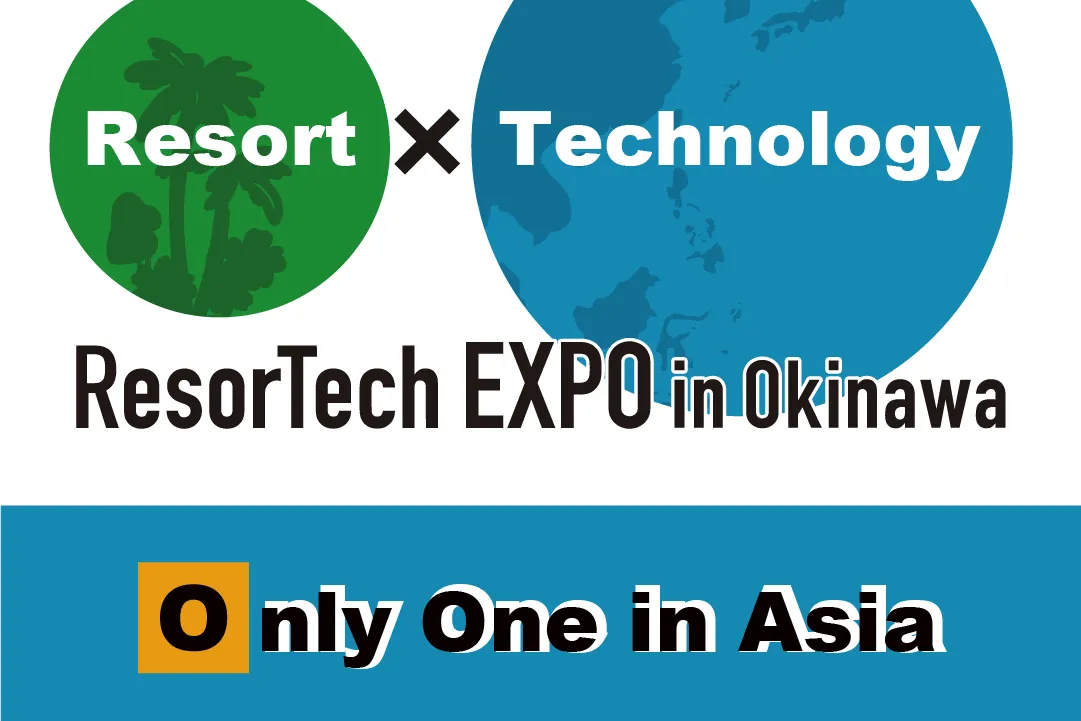 ResorTech EXPO 2023 are setting the targets to be international trade fair which is generating international business with Okinawa as its starting point.
We are proud to announce "From Okinawa, Reboot Japan!" as our theme. This year, we are focusing on the participation of foreign companies more than ever before, and the theme means that we will restart and revitalize Japan from this exhibition.
Why hold at Okinawa?
As Okinawa Prefecture Asian Economic Strategic Promotion Plan explains "from domestic and international, information, services, commodities, companies, people and business gathers in Okinawa.", Okinawa is the center of a huge market of 2 billion people in Asia.
Based on following four advantages, Okinawa aims to become a "DX Testbed Island" and an ideal location for IT business demonstrations.
1. Optimal Access to Asian Major Cities
Naha Airport's domestic and international route networks are among the best in Japan. Connect with Asian major cities in 4 hours or less with flight from Okinawa.
2. Reducing the risk of simultaneous disasters
Taking advantage of its geographical characteristics, Okinawa is providing decentralized base for development and data accumulation to solve business issues.
3. Substantial IT Infrastructure
Okinawa is providing a cloud environment in collaboration with the public and private sectors, and creating two-way business environment between Asia and Japan.
4. Support system for new businesses
Okinawa prefecture government offers a comprehensive support service for new business.
Ref: Information and Communications Industry Business Establishment Guide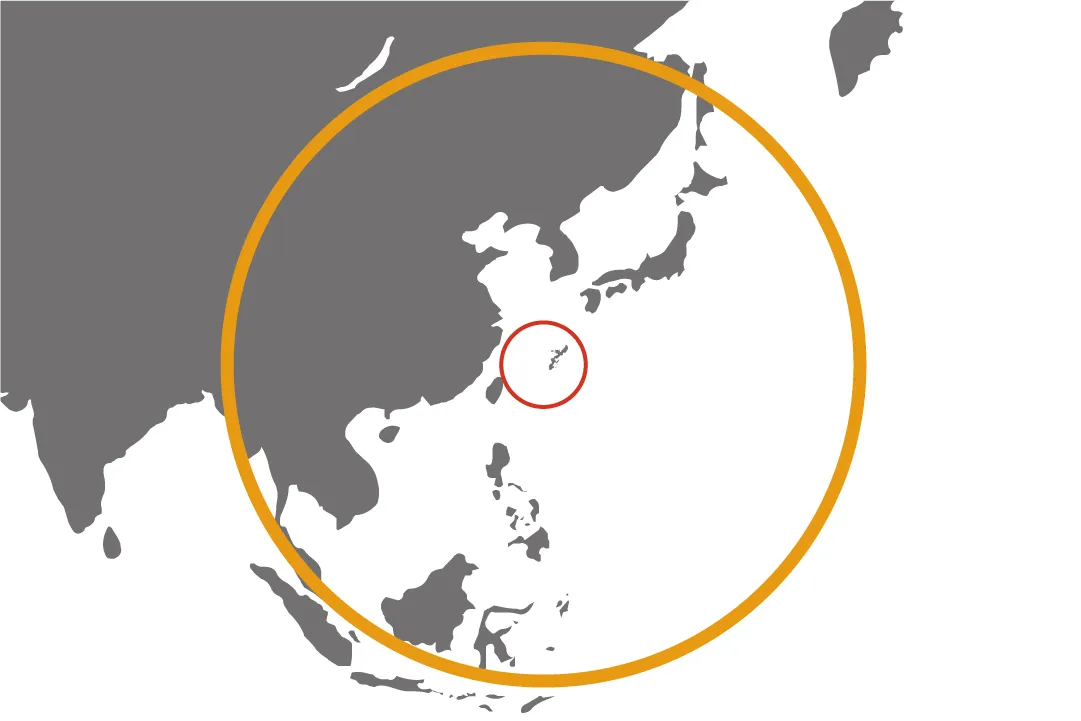 Benefits of Participation
ResorTech EXPO and Okinawa Prefecture gavernment will be able to providing following benefits for the participants from overseas.
Business matching with Japan partners
Our EXPO matches you with the partners you need, not only by the exhibition but also through business matching.
Demonstration Project
DX Testbed Island, "ResorTech Okinawa" provides you the environment and assistance to conduct your demonstration project.
Gateway to Japan market
Your activities in Okinawa, like a demonstration project to be used as a gateway to your market development to Japan.
Support for Establishing a branch in Okinawa, Japan
Okinawa prefecture government provides one-stop services for the consultation and support as a single point of contact for all your needs to establish a branch.
Past Achievements of ResorTech EXPO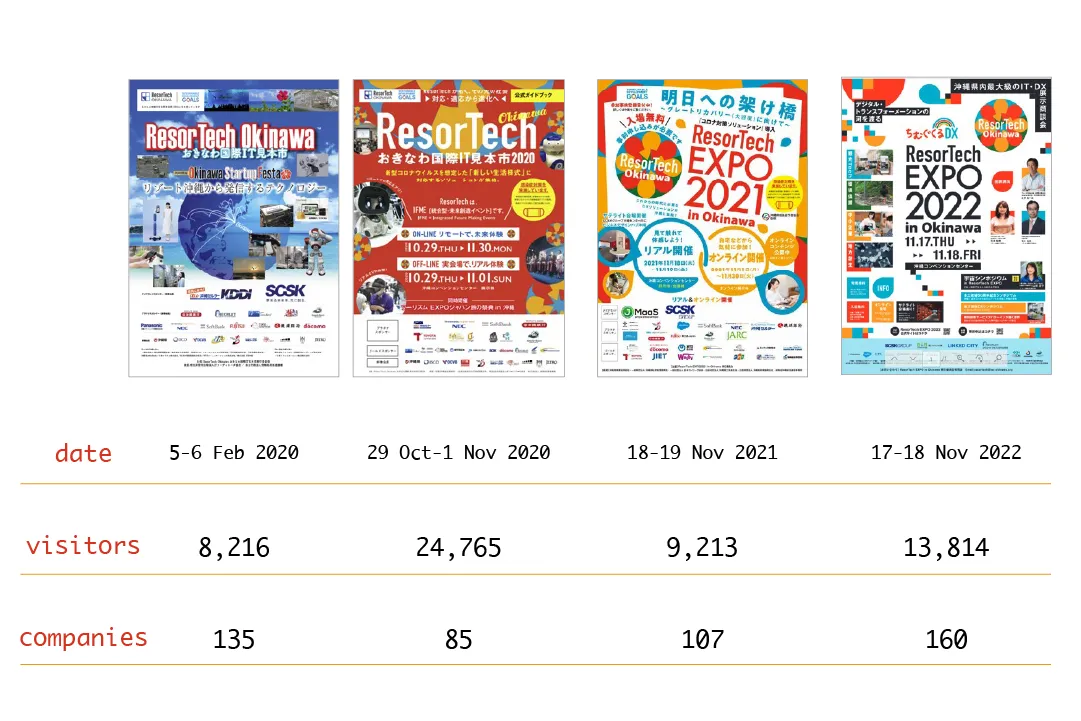 We are promoting the ResorTech EXPO with the full support of Okinawa Prefecture government.
The first exhibition was held in February 2020 as a pre-event. Due to the COVID-19 outbreak after October 2020, the exhibition was made into a hybrid event by holding the exhibition online as well as at the actual venue.
The number of visitors has gradually increased from 8,000 at the first event to over 13,000. The number of participating companies has also gradually increased from 135 to 160.
Since last year, ResorTech EXPO  has become the largest IT exhibition in Okinawa, both in name and reality.
Outline of ResorTech EXPO 2023
Event Name
ResorTech EXPO 2023 in Okinawa
Event Theme
From Okinawa, Reboot Japan!
Host
Executive Committee of ResorTech EXPO in Okinawa
Target # of Visitors
On-site 10,000, Online 5,000
Exhibition Period
9th – 10th November 2023
Online Streaming
[tentative] 2nd October – 30th November 2023
Venue
Okinawa Arena
Joint Event
Okinawa Startup Festa 2023
Workation Fair 2023
Contents
Exhibition, Business meeting, Keynotes, Symposiums and DX Seniors
Target fields
(Concepts)
- Generating international business with the resort, Okinawa as a starting point
- Promoting DX in all industries. Improvement for earning power
- Regional (local area) development. Solving regional issues
Targeted Visitors
Businesses requiring technology services in all industries, government officials, students and media
Collaborative Events
Okinawa Industrial Festival, The Grate Okinawa Trade Fair,
CEATEC, Kyoto Smart City Expo, ODEX and COMPUTEX Taipei/InnoVEX
This year, we are focusing on the participation of foreign companies more than ever before, and the theme means that we will restart and revitalize Japan from this exhibition.
We are targeting 15,000 visitors, 110% more than last year. The exhibition will be held for two days, November 9 and 10. We plan to offer online seminar streaming to visitors for about two months.
The venue will be the Okinawa Arena in Okinawa City. This venue will also host the FIBA Basketball World Cup this August.
Concepts of our exhibition are to create international business from Okinawa, and promote Digital Transformation in all industries and regional development.
We want to engage with businesses in need of technology services, especially small and medium-sized business owners. Also, we would like to see many government officials to promote regional development.
In addition, many exhibitors have asked for students to see what IT companies are doing, so we are planning for more students to attend our exhibitions.
Okinawa Arena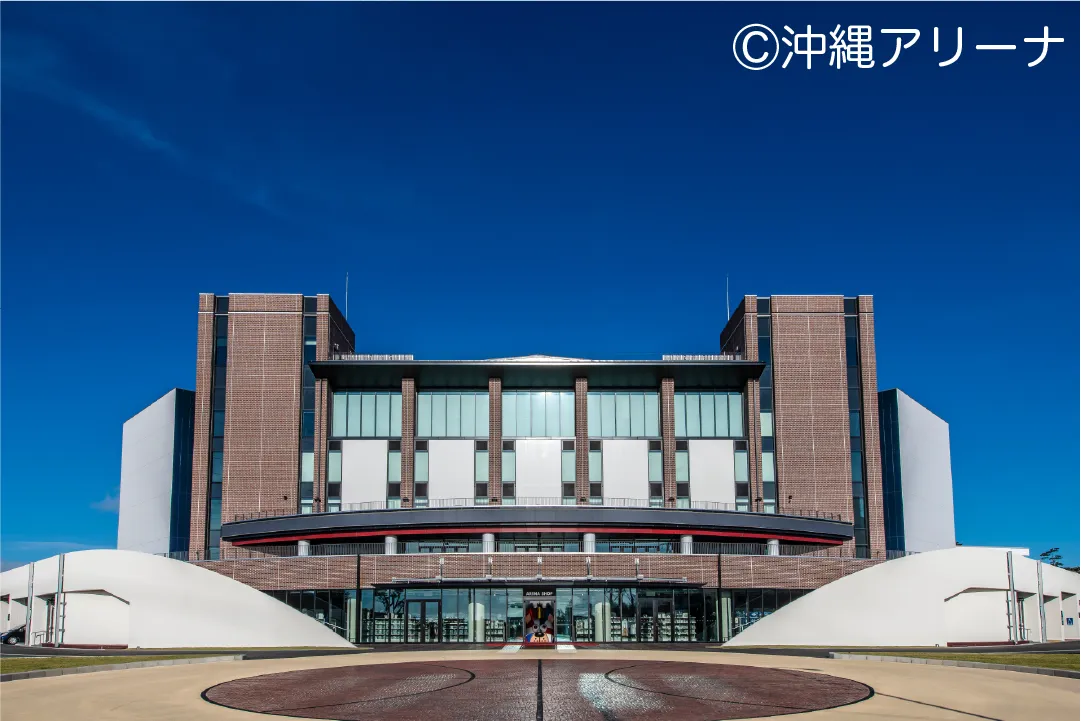 The Okinawa Arena is a very spectacular venue, and it's the home ground of the Ryukyu Golden Kings, a powerful professional basketball team of Okinawa. The FIBA Basketball World Cup 2023 (Aug-Sep 2023) will be held at the "Okinawa Arena" too.
We will make full use of the "Okinawa Arena" which has a well-equipped environment with digital signage and many private rooms and will conduct event management appropriate for a technology exhibition.
Symposium & Seminar Venue
The main stage will be set up in the main arena where the sponsor seminars will be held.
The 4th floor hall is the venue for paid seminars. We are planning to divide this seminar hall into two sections so that the speakers and participants can be close to each other.
The 5th floor hall is the venue for keynotes and symposium.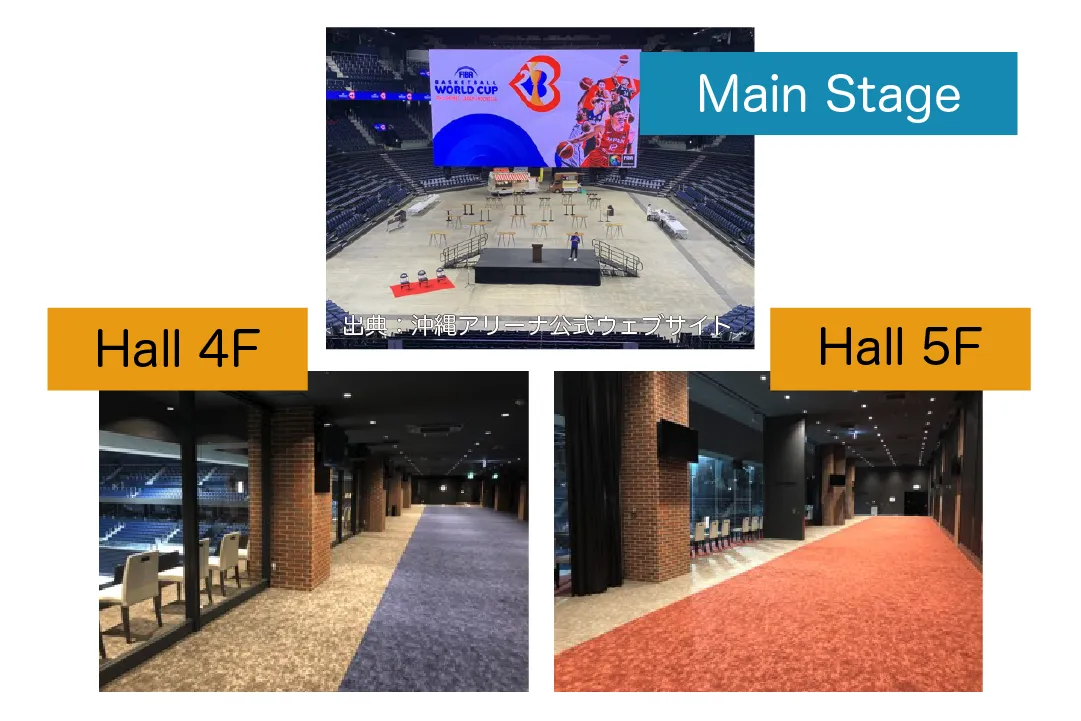 Regular Exhibit Booth and Sponsor Plan
There are two main ways to participate in ResorTech EXPO; as a regular exhibitor with a booth, and as a sponsor.
The regular exhibitor is the one who exhibits a booth as shown in the figure here. Basically, a booth is 2m x 2m.
We offer a set price for one booth and a meeting set inside the booth.
Regular Exhibit Booth
Exhibition space 4㎡ (1 booth)
Business set (1 table D600 x W1500, 2 chairs)
System panel
Company name plate (W900×H200)
Booth number plate
Tablecloths (1 per booth)
Standard power supply 100V/500W (1 outlet)
Wifi Internet environment (best-effort type)
Exhibitor passes (5 per booth)
* Specifications are subject to change.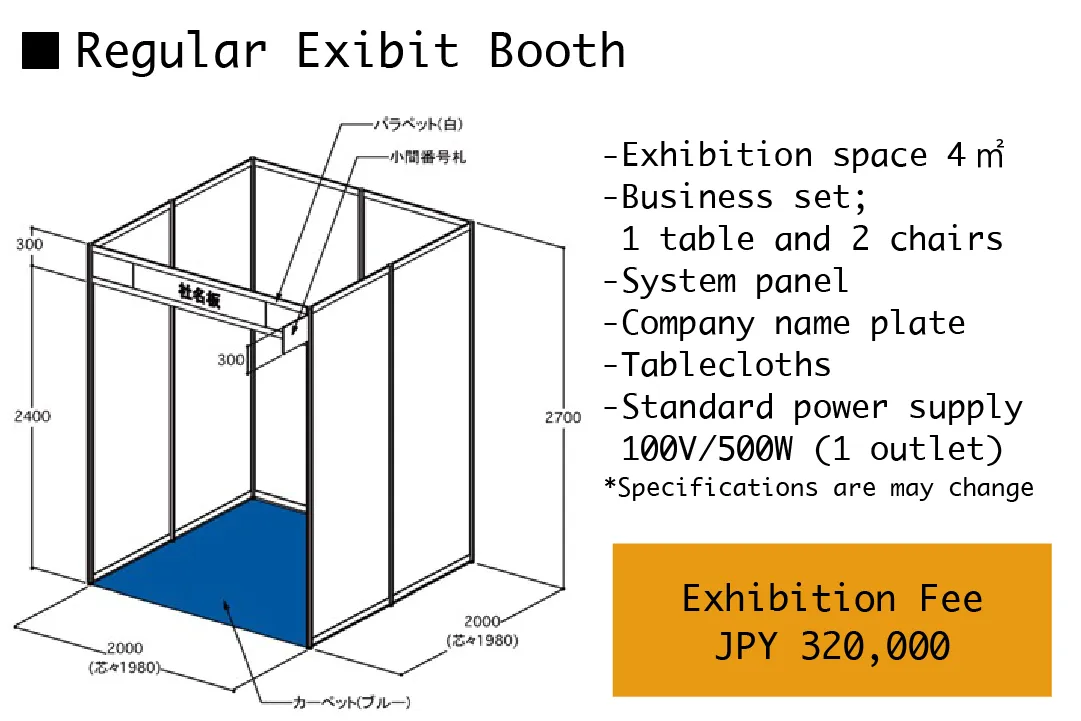 Sponsor Plan
There are three grades of sponsorship Gold, Platinum, and Diamond.
Gold is equivalent to 2 regular booth spaces, Platinum is 4 booth spaces, and Diamond is 12 booth spaces.
Sponsorship is not limited to a booth, but also includes a variety of other services and benefits. Please see more detail the document below;
■Overview of ResorTech EXPO 2023 in Okinawa
There also have the signage plan for those who do not exhibit solutions but wish to advertise by placing logos and distributing signage. Please contact to us for more information.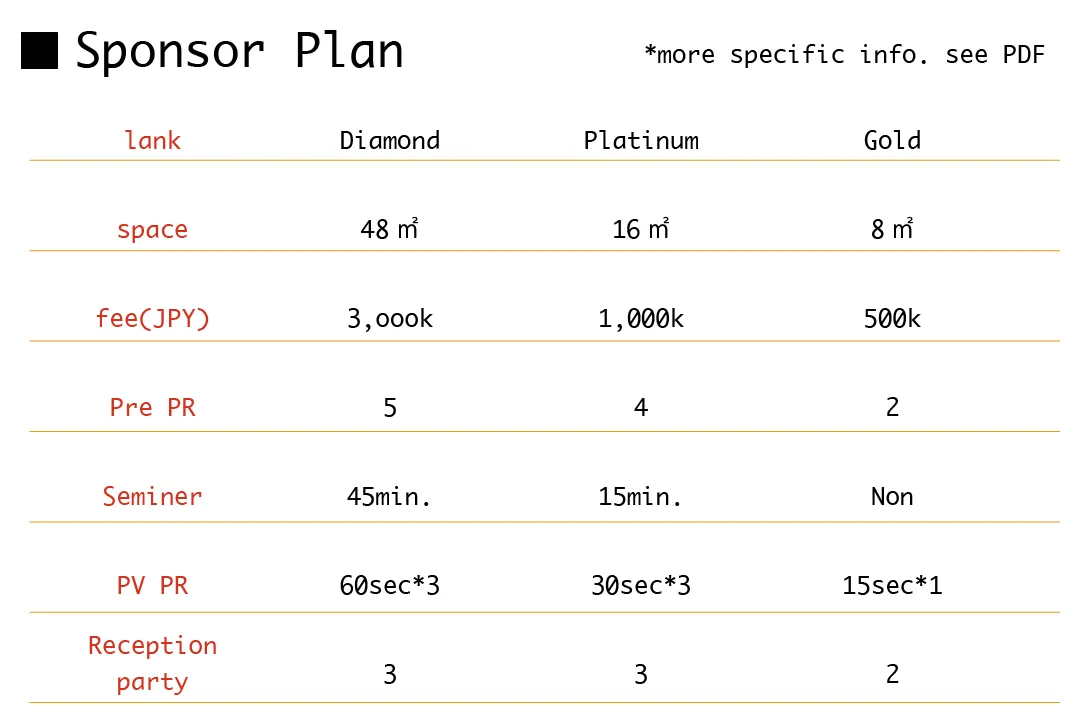 Simple Exhibit Booth
We are planning to set up a special exhibition area outside the main arena with a slightly lower price plan.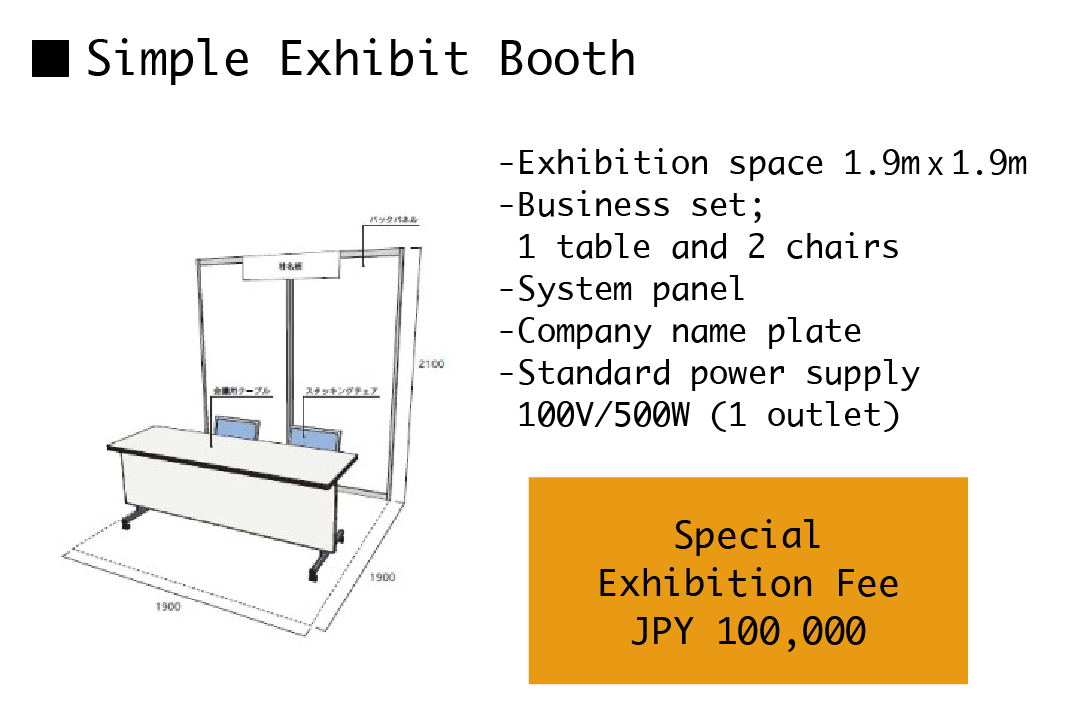 Other plans to make ResorTech EXPO more exciting
ResorTech Award 2023
The ResorTech EXPO AWARD 2023 recognizes particularly outstanding technologies, products, and services exhibited at the ResorTech EXPO 2023 in Okinawa.
The "ResorTech EXPO Award Selection Committee" will screen, select, and present awards to companies, organizations, and projects related to technology, products, and services exhibited at the ResorTech EXPO in Okinawa, as well as to companies, organizations, and projects related to technology utilization in all industries in Okinawa, which are highly innovative from academic and technical perspectives, marketability, and future potential.
There is also an award category for outstanding DX promotion cases targeting non-IT businesses in Okinawa. In addition, this year there will be a new category for overseas companies.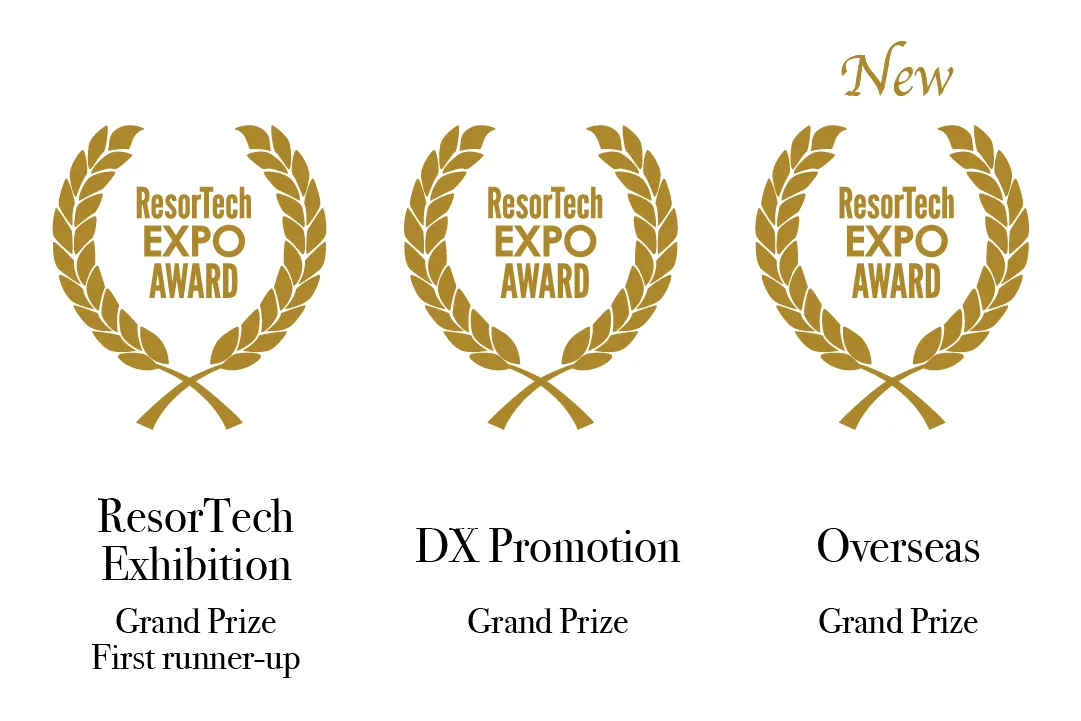 Special Exhibit Area for Startups & SMEs
We are planning to set up a special exhibition area the main arena concourse with a slightly lower price plan for introduce startups and small and medium-sized businesses in Okinawa Prefecture and to connect them with exhibitors and visitors.
Reverse Business Booths
We want to increase the rate of business negotiations by making ResorTech EXPO a venue for business matching, so we continue setting up a reverse business negotiation booth where non-IT companies can set up booths and make proposals.
Pre-matching
In addition, as a new service, we plan to implement an "advance matching program" to match exhibitors and visitors in advance. Participants in the program will be able to exchange information with each other before the exhibition, and on the day of the exhibition they will be able to conduct business negotiations in the conference rooms or VIP rooms.
Exhibition booth tours
And continue the exhibition booth tours that we had last year.
The contents of the events and their respective outlines will be finalized in coordination with the parties concerned. Depending on the situation, we may consider changing the contents of the event.
Waiting for your apply to ResorTech EXPO